08 décembre 2007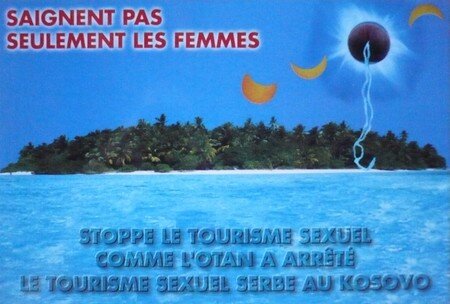 E
BLEED NOT ONLY WOMEN - IT'S NOT JUST WOMEN WHO BLEED - -
STOP SEXUAL TOURISM LIKE NATO HAS STOPPED
SERBIAN SEXUALS TOURISM IN KOSOVO
According to means some sadists in the third world countries with the help of mafias, can buy, possess and supply children aged six to height, upon whom they inflict all their sexual perversions. If the child dies after the sexual tortures, his body will disappears mysteriously without leaving any trace., allowing his torturer to continue to live without fear of being disturbed and being prevented of repeating the act. The surviving children will remain physically and psychologically handicapped for the rest of their lives and will fall into the hands of other sadists.
This also happens next door, or sometimes Mr average, the nice Dady, the nice Mummy rapes and beats her son, his daughter, their children…..
Open your eyes, make the truth behind the mask, break the silence…..
Because children are not toys, but our future.
RAPE = MURDER
Rape = murder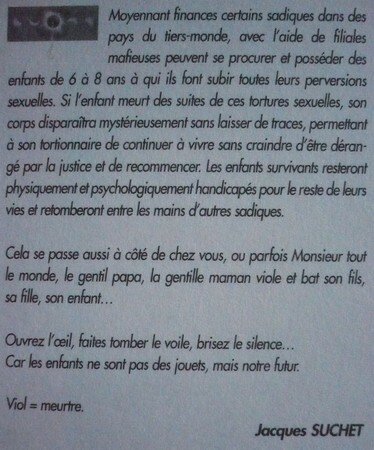 ES BLUTTEN NICHT NUR DIE FRAUEN
STOPPT DEN SEX-TOURISMUS, SO WIE DIE NATO
DEN SERBISCHEN SEX-TOURISMUS IM KOSOVO GESTOPPT HAT
Mit den entsprechenden finanziellen Möglichkeiten können Sadisten in Dritte-Welt-Ländern mit der Hilfe von örtlichen Mafiaorganisationen Kinder im Alter von 6 bis 8 Jahren sexuell miβbrauchen. Stirbt ein Kind nach solchen sexuellen Miβhandlung, verschwindet sein Körper auf mysteriöse Weise, ohne Spuren zu hinterlassen, die Schänder entkommen der Justiz und können unbehelligt weiter ihr Unwesen treiben. Die überlebenden Kinder tragen lebenslange psychologische und körperlich Schäden davon und fallen oft erneut in die Hände anderer Sadisten. Solche Situationen können Sie auch in ihrer Nähe antreffen, der nette Herr von nebenan, der nette Vater, die nette Mutter vergewaltigen und schlagen ihren Sohn, ihre Tochter, ihr Kind. Haltet die Augen auf,laβt den Schleier fallen, brecht das Schweigen.....
Unsere Kinder sind keine Spielzeuge, sondern unsere Zukunft
Vergewaltigung = Mord
---------------------------------------------------------------------------------------------------------------------------------------------------------------------------------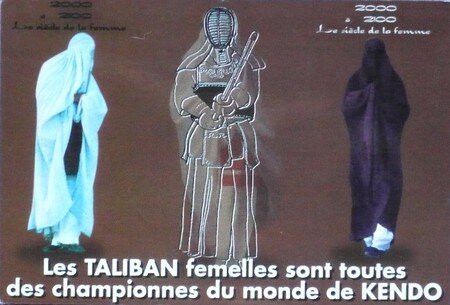 2000 to 2100 the century of women

THE TALIBAN FEMALES ARE ALL
WORLD CHAMPIONNS IN KENDO

The mark of GOD on the " Corpus Femina" .
The clitoris is the signature of GOD : the signature which after six days of work, He Himself placed on his masterpiece : CREATION, on the dawn of the seventh day, just before returning to rest in his palace the paradise. If Playboy, Hustler, Lui, Penthouse…had only shown centerfolds without clitoris in their magazines, they would have been bankrupt a long time ago. Such is the world and the desire of man, the male.
A victim of clitoral mutilation every 16 seconds = 4 victims pr minute = 240 pr hour = 6 000 pr day = 180 000 pr month = 2 000 000 victims pr year. ONU, UNICEF, OMS…..state that in the world, about 150 millions Women, Girls, Babies whose clitoris have been cut off, ripped and thrown in pasture to dogs and gutter cats. This represent a volume of clitoris large enough to fill a swimming pool, of course after having removed the water and the Olympic swimmers.
After that man has devoted 10 000 years to himself alone, it is normal that on the first of January 2 000 the century of Women, Handicaped.. should start. In the name of the Father and the Mother and the Children….
SO BE IT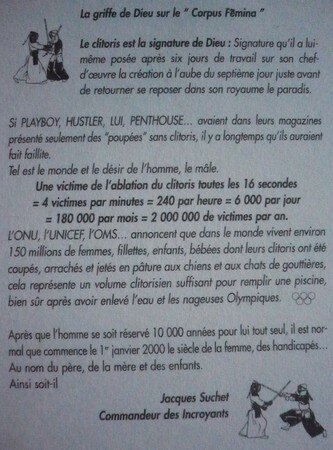 _____________________________________________________________________
Die weiblichen Taliban sind alle Weltmeister im Kendo
2 000 bis 2 100 - DAS JAHRHUNDERT DER FRAUEN
Gottes Unterschrift auf dem << Corpus Femina >>
Der Klitoris ist die Unterschrift Gottes : Eine Unterschrift, der er nach sechs Tagen Arbeit unter das Meisterwerk seiner Schöpfung gesetzt hat, am morgen des siebten Tages, bevor er in sein Königreich, das Paradies, zurückkehrte, ,um auszuruhen. Würden PLAYBOY, HUSTLER, PENTHOUSE ……nur ohne Klitoris darstellen, wäre ihre Zeit langst abgelaufen. So ist die Welt Gemäβ dem Verlangen des Mannes. Alle 16 Sekunden ein Opfer der Klitoris-Verstümmelung = 4 Opfer pro Minute = 240 pro Stunde = 6 000 pro Tag = 180 000 pro Monat = 2 000 000 pro Jahr. ONU, UNICEF, WHO teilen mit , dass ungefähr 150 Millionen Frauen, Mädchen und Säuglinge existieren, deren Klitoris abgeschnitten und den Hunden und Katzen zum Fraβ vorgeworfen wurde.Das stellt ein Volumen an Klitoris dar, daβ groβ genug ist, ein Schwimmbecken zu füllen; natürlich nach Entnahme des Wassers und der Olympischen Schwimmmeisterinnen. Nachdem der Mann 10 000 Jahre für sich alleine reserviert hat, ist es normal, daβ am 1. Januar 2 000 daβ Jahrhundert der Frau, der Behinderten….. beginnt.
Im Namen des Vaters, der Mutter, des Kindes.
So soll es geschehen.
Jacques SUCHET Der Führer der Ungläubigen
RAPE = MURDER
LOVE = come in with out knocking (beating)
I don' t play doctor with children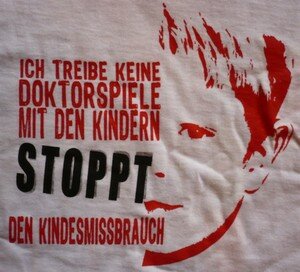 STOP PAEDOPHILES
Commentaires sur childrensex